Gangster
The Detonators
By John Collins
This LP contains early recordings I made at my house in Tottenham in the 70s on a Teac 4 track tape recorder working with singer Victor Evans, musician Nat Augustin and drummer Everton McCalla who were all pupils at a local school where my wife taught. They were among a vibrant and talented community of second generation West Indian musicians in North London. My "studio" was referred to as "White Johns" as opposed to "Black Johns" who's studio was also in Tottenham.
Shoob Shooby Do and Need Love Tonight were recorded in early 1978 with Victor, Nat, Everton and a friend of theirs from South London, Noel "Fish" Salmon, who was there to play organ. Everton and his drums were in the downstairs back room, the rest of us were in the front room with the recording gear. The cables for the two drum mics ran through a small hole I had drilled in the adjoining wall. The backing tracks were recorded live in stereo and Nat's vocals were overdubbed. Two other tracks (Give Me A Helping Hand and Great Big Ghetto) with Victor on vocals were also recorded at this time.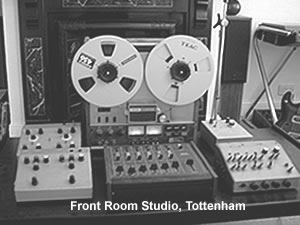 Working Dub was recorded in the summer of 1978. Everton and Nat were now working with a funk/soul band that was to become Light of the World and I was working with a drum machine I had made. Other pieces of equipment added around this time were my own equaliser and compressor units and a kit built synthesiser a Transcendent 2000 that would later feature on The Specials Ghost Town.
Robber Dub is basically me, my drum machine and a toaster called Horace. He was a friend of Victor and Nat's who had recently arrived from Jamaica and lived nearby on the Broadwater Farm estate.
I Don't Believe It has Victor on vocal. I got the keyboard rhythm chop by playing a Vox Continental organ through the Transcendent 2000 filter and envelope sections. Hide Out is a dub of this rhythm.
Listen to Gangster on Spotify
Poor Boy has Victor on lead vocal with Nat on backing vocals and electric guitar played through the Transcendent 2000. Shoot-Out is a dub on the chorus section of this rhythm. The reverse reverb was done by turning the tape over and playing the guitar track backwards through the reverb spring and recording this reverb onto a spare track. The tape was turned back the right way and the spare track now had the reverse reverb to drop into the dub as desired.
The Drum Machine
The first drum machine I made was based on a design in Practical Electronics. That was in the late 60s. It had hardwired rhythms like "beguine", "bosa nova" and "slow rock" and only one output. When I became interested in reggae and dub in the 70s I designed and built the drum machine (pictured) that better fitted my requirements.
This has just three analogue sounds: bass drum, snare drum and hi-hat, all with separate outputs. The bass drum circuit has a decay control to make it more or less boomy. The snare drum circuit is similar but operates at a higher frequency, plus gated white noise. The hi-hat is simply gated white noise These sounds are "programmed" using three banks of switches that connect them to the appropriate timing pulses. There are 8 or 6 timing pulses, depending on the position of the "time signature" switch. These pulses fire in regular succession at a rate set by the tempo control.
The design philosophy was to make something simple, practical and useful. I wasn't interested in spending all my time making a commercial version. Reggae and dub was all about having your own custom equipment, technique and sound.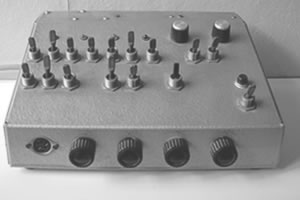 back to Local Records history